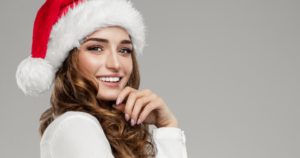 Have you spent years wishing you could improve the appearance of your smile? If so, there's no better time than the holidays. Since it's the most social season of the year, it's the perfect chance to show off a new you! Not to mention that you'll head into the new year with your best foot forward. And if you've hesitated in the past because you thought it would be lengthy or difficult, you'll be glad to know that many cosmetic procedures are done in just 1-2 visits. Keep reading to learn just how easy a smile makeover in Bellingham can be.
Why Are the Holidays the Perfect Time For a Smile Makeover?
Here are just a few good reasons why this time of year is perfect for enhancing your smile:
You'll feel more self-confident – Family reunions, work parties, and neighborhood gatherings are all more fun when you feel good about how you look.
You'll smile and laugh more – When you don't feel embarrassed about your appearance, the chances are good that you'll find yourself laughing and smiling more often.
You may even improve your oral health – In some cases, a procedure can kill two birds with one stone by improving the aesthetics and health of your teeth. For example, a dark or stained area on a front tooth might actually be a cavity. Having it repaired will prevent it from causing more damage while also making your smile look better.
What Are Your Options For a Smile Makeover?
Whitening – A professional take-home whitening treatment will whiten your teeth by 3-8 shades. After custom-made trays are created, you'll simply fill them with whitening gel at home and wear them 20-60 minutes a day (depending on the strength of the gel that's best for you). Most people get their desired results in about 14 days.
Cosmetic Bonding – This procedure is done in just one visit. It involves using tooth-colored filling material (the same material used to repair cavities) to correct relatively minor cosmetic flaws. It's often used for small chips, stains, cracks, and cavities on the front teeth.
Porcelain Veneers – Porcelain veneers are an excellent way to completely mask a variety of flaws and can be done in just 2 visits. They're great for chips and cracks, minor gaps and crowding, severe discoloration, and oddly-shaped or uneven teeth.
Metal-Free Restorations – If you don't want your dental work to show when you smile or laugh, metal-free restorations such as fillings and crowns can be a great choice. These materials are not only durable but also blend in perfectly with your smile.
Gum Recontouring – If you feel like you have a "gummy smile" or uneven gums, this procedure is a fantastic option. It allows a dentist to reshape your gums in just 1-2 visits and give you a beautifully-proportioned, uniform smile.
If you want a smile makeover for the holidays, start with a consultation with a cosmetic dentist in Bellingham. After looking at your dental history, oral health, and overall goals, they'll create the perfect treatment plan for you – just in time for the holidays!
About the Author
Dr. John Young is an experienced general and cosmetic dentist who's known for giving his patients beautiful results. He always looks closely at each patient's needs and goals so he can recommend the cosmetic procedures that will benefit them the most. If you want a smile makeover in Bellingham for the holidays or have any questions, he can be contacted via his website.