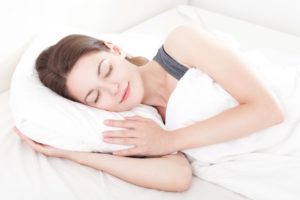 Did you spend the last 12 months struggling to make it through each day because of constantly feeling tired and sluggish? If so, you may be suffering from sleep apnea, which can deprive your mind and body of the rest they need to operate at the optimal levels. Thankfully, you can turn things around in the new year with sleep apnea therapy in Bellingham. Read on to learn how!
Not Sure What Sleep Apnea is?
Sleep apnea refers to the frequent lapses in breathing while sleeping, each of which triggers the brain to send a distress message that causes the person to awaken. Thus, after what should have been a sufficient amount of rest, the person is left feeling lethargic the next day.
There are two types of sleep apnea, which are both described below:
Obstructive Sleep Apnea (OSA) – The most common form of sleep apnea, OSA happens when there is a partial blockage of the airway. It can be caused by added neck girth or the tongue falling to the back of the throat, both of which can impede the flow of oxygen.
Central Sleep Apnea (CSA) – Medical professionals consider CSA to be a more dangerous form of sleep apnea. For people who suffer from this condition, there is miscommunication where the brain fails to send the message to the respiratory system to maintain breathing.
Either condition can cause life-threatening illnesses and can limit the function of the immune system, so it's important that if any warning signs are noticed, to first bring them to a physician's attention so a sleep study can be conducted.
The Common Symptoms of Sleep Apnea
The first step to seeking treatment for sleep apnea is to recognize the more common symptoms. They can include:
Irritability
Depression
Loud snoring
Daytime drowsiness
Decreased sexual libido
Inability to concentrate
Gasping sounds while sleeping
How a Sleep Dentist Can Help
After a visit to a physician and being diagnosed with sleep apnea, you can then seek the help of a local sleep dentist. The usual form of treating the condition is with a continuous positive airway pressure (CPAP) machine, which is designed to force air in your throat while you sleep.
For patients who desire a more comfortable experience, there is the oral appliance option, which is custom-designed to fit each patient's jaw and shift it appropriately to allow for air to flow. This device can also be used in combination with the CPAP machine to deliver even more effective results.
With help from a dentist in Bellingham, it's possible to finally overcome sleep apnea and enjoy a healthier and more productive year.
About the Author
For over 20 years, Dr. Ronald A. Moreno has been a fixture in the Bellingham area, providing expert dental care. Still, the Georgetown University graduate enjoys the process of helping patients experience the absolute best in dental health. Dr. Moreno treats sleep apnea at Moreno and Young Dental, and he can be reached for more information through his website.