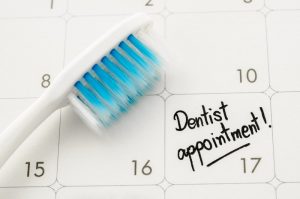 If you weren't already aware, your dental insurance benefits restart at the beginning of each year, and most plans typically cover 100 percent of the cost of two checkups and cleanings that are spaced-out between six months. To start your year off right and squeeze both of your appointments in, be sure to schedule your checkup and cleaning at the beginning of 2021. Read on to learn more about what makes these routine preventive appointments so critical in maintaining good oral health.
ß!moreà
Avoid Dental Emergencies Throughout the Year
It's safe to say that 2020 was a pretty chaotic year that most people are happy to leave behind them. The looming threat of financial insecurity along with getting sick may have caused your anxiety to peak. In the new year, you can take small preventive steps to keep more unpredictable situations from occurring, like painful and shocking dental emergencies.
By visiting your dentist for a checkup and cleaning early on in the year, you can treat any small issues that may have developed within the last six months of seeing your dentist. Not only will treating them early-on minimize the damage they cause to your smile, but it will likely keep you from needing to visit your emergency dentist.
Build a Good At-Home Routine with Your Dentist's Guidance
If you keep getting cavities and you're just not sure why, with your dentist's guidance at your bi-annual appointment, you can optimize your at-home oral hygiene routine and keep your oral health on the right track throughout the year. Your dentist can provide you with toothpaste and toothbrush recommendations specific to your needs, teach you the proper brushing and flossing technique, and even alert you to areas of your mouth that you may not be brushing as well as other areas.
Learn How Bad Oral Habits are Impacting You
If you smoke or chew tobacco or bite your nails, you're at a greater risk of developing oral infections, experiencing dental damage, and being diagnosed with oral conditions like cancer. If your dentist begins noticing the early effects of these habits, they can alert you to how they're impacting your oral health and help you make small steps towards quitting them. With professional guidance and the right resources, you can gradually improve your oral and overall wellbeing.
Make the New Year a Good One!
By scheduling your routine checkup and cleaning with your dentist at the beginning of 2021, you'll be able to rest-assured that you can avoid stressful and painful oral situations down the road, making your year that much more enjoyable.
About the Practice
At Moreno & Young Dental, our team consists of three highly experienced, friendly, and skilled dentists who do everything they can to optimize their patients' oral health. By offering comprehensive dental care, our team is able to help children, teens, adults, and seniors develop excellent oral practices to preserve their smile for a lifetime. If you haven't scheduled your family's checkups and cleanings yet, be sure to do so by visiting Moreno & Young Dental's website or calling 360-676-0642.