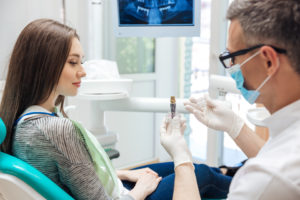 In the past, patients who needed to replace one or more missing teeth had to rely on treatments that only restored the visible portions of teeth. Today, dental implants allow dentists to replace the roots of missing teeth for a more natural looking, feeling, and functioning solution. Because an implant supported replacement tooth functions more like your natural smile, many dentists are now recommending these treatments as the ideal. If you're considering dental implants, you may think that any dentist can offer these services. Actually, finding the right dentist for the job will likely save you time, money, and discomfort throughout the process. In this post, we'll discuss some of the things you should consider when looking for a dental implant supported tooth replacement specialist to offer affordable treatment options.

1 – Quality Comes at a Price
Some patients assume that all dental implants are the same, but there are numerous types of dental implants, materials, and placement methods. The lab, materials, and design of the implant all impact the price, but they also impact implantation success rates. A trained and experienced dentist will also likely charge higher fees, but you want to find a professional with the knowledge to safely perform successful implant placement.
2 – Don't Assume You Can't Use Insurance Benefits
While dental implant posts and their placement are not typically covered by dental insurance, other aspects of your treatment plan may receive coverage. Some of the parts of your implant tooth replacement plan that may be covered by your benefits include:
Sedation dentistry
Preparatory treatment like tooth extraction and tissue grafting
Replacement teeth
3 – Discuss Financing
Because dental implants do require a higher up front cost than other tooth replacement options, many patients want to spread out the price over a number of smaller payments. Dental offices usually work with third party financiers who specialize in offering payment plans for dental and medical care. These companies will typically offer low or no interest plans for qualifying patients.
Meet the Moreno & Young Dental Team
At Moreno & Young Dental, our skilled dentist and dentistry team members offer a wide range of treatment options, including advanced dental implant supported tooth replacement. Our skilled dentists have completed training to safely and effectively place dental implants. We also have knowledgeable team members who can make the most of your dental insurance coverage, and we work with third party financiers to offer affordable payment plans. We recently started working with Proceed Financial to provide financing up to $55,000 for patients in need of the most advanced dental implant supported tooth replacement plans. If you want to find out more about your tooth replacement options, call our team to schedule an appointment in our Bellingham dental office today.