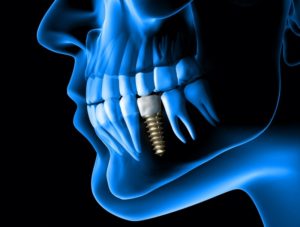 For people with missing teeth, dental implants in Bellingham might almost seem miraculous. They let you eat and speak normally again and can even keep your jawbone from weakening! But of course, a dental implant placement is no miracle; it's a surgical procedure, and having the right tools for the job can make all the difference in its success. Here's how your dentist is using advanced technology to complete your smile.
CT/Cone Beam Scanner
Precision is the key when placing dental implants in your mouth. Your dentist will need to make sure that there's plenty of bone to support the metal post; they also need to know about any dental structures or other potential obstacles that they'll need to work around. For these reasons, careful planning is necessary, and a CT/cone beam scanner can make a huge difference for this step.
The scanner rotates around your head a full 360 degrees. During the rotation, it can take as many as 200 high-resolution X-ray images. Once the scan is complete, the 2D images are digitally combined to create a comprehensive 3D image of your mouth that includes your teeth, soft tissues, nerve paths and craniofacial bones.
The sheer level of detail in a CT/cone beam scan is far beyond what can be found with a traditional dental X-ray. Your dentist will be able to fully examine your jaw, sinuses and other structures to plan the procedure. For patients with smaller mouths that allow very little margin of error, the precision of these examinations can mean the difference in whether or not an implant procedure is successful.
Modern Dental Lab
Who's responsible for making your new teeth? For patients who are getting crowns or bridges for their implants, the restoration will likely be made at a dental lab that partners with your dentist in Bellingham. Such labs will use modern tools and techniques that help ensure the replacement teeth last longer and won't break easily.
Prosthetic teeth can be made of many different materials depending on what you need. Some can be made out of gold or other metals, but some patients might not like how they stand out when they open their mouths. That's why these days, crowns and bridges can be made out of porcelain or other ceramics; they're tooth-colored and can be shaded depending on the patient. This helps create a much-more natural smile; many people won't even realize you have false teeth!
These are just a few examples of how a dentist might take a modern approach to your dental implant surgery. During your consultation, ask about the procedure and what kind of tools will be used. It's your smile, after all; it's only right that you make sure it's being repaired with the best care available.
About the Practice
At Moreno & Young Dental, three skilled and caring dentists combine their talents to bring you a wide variety of dental services that can protect, fix or brighten your teeth. Whether it's a single tooth or an entire arch, they can restore your smile with dental implants using the latest techniques and technologies available. To schedule an appointment, visit their website or call (360) 676-0642.