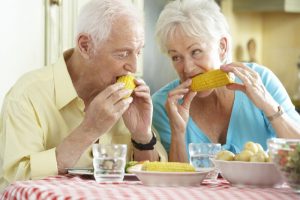 The summer months are known for sunny weather, fun with family and friends and barbecues. Like most people, you look forward to enjoying the many food delights that the season has to offer. Unfortunately, not having a full set of teeth can limit your culinary possibilities. Thankfully, there is a solution that will allow you to eat all the summer foods you love: dental implants. Continue reading to learn about this amazing smile solution!
What are Dental Implants?
Cylinder-shaped posts that are made from the highest-grade titanium, dental implants are surgically inserted into the jawbone. They are unlike any other form of tooth replacement, as they are attached beneath the gum line to create a sturdy and lasting restoration.
The dental implantation process is also quite versatile, as it can replace any number of missing teeth. Whether you're missing a single tooth, multiple teeth are your entire set, these are the basic steps for tooth replacement with dental implants in Bellingham:
Initial implant placement – Once the implants are in place, you'll need a few months to heal and for the posts to fuse with the existing bone (referred to as osseointegration).
Addition of the abutments – Titanium abutments are attached to the implants that serve as anchors.
Placement of the final restoration – A custom restoration (crown, implant-retained bridge or denture) is securely affixed to the abutments to leave a fully restored and functional smile.
Greater Food Selection with Dental Implants
Because you don't have to worry about dental implants slipping and sliding in your mouth, you can feel free to eat many of the foods you love. It starts with the fusion process (called osseointegration) that creates a foundation that is similar to that of the original tooth root. With dental implants in place, you can expect to regain up to 75% of your original chewing capacity.
This could very well be the summer that you once again enjoy a juicy steak, corn on the cob and other delights that you previously had to give up.
The Other Perks of Dental Implants
With proper care, which should include brushing and flossing at least two times a day, your dental implants can last up to 30 years. That amounts to many more summers to enjoy the sun and fun festivities, take countless photos and savor the many food flavors. To get the ball rolling, reach out to a dentist in Bellingham today to schedule an initial visit!
About the Author
Dr. Ronald A. Moreno earned his dental degree from the Georgetown University School of Dentistry. Throughout his career, he has taken a perfectionist approach to providing care to his patients, which is especially important when it comes to performing the dental implantation procedure. Additionally, Dr. Moreno has taken several hours of continuing education to further hone his skills and expand his knowledge. He replaces missing teeth with dental implants at Moreno & Young Dental, and he can be reached for more information or to schedule a visit through his website.