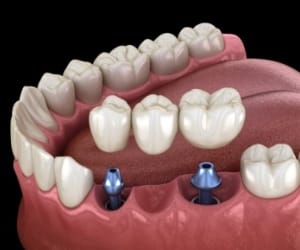 If you're missing a tooth or two, you have more options than ever to replace your missing teeth; however, only one solution replicates the root. A dental implant rebuilds the entire structure of the tooth. As a result, it allows you to enjoy a nearly perfect recreation of your natural smile. Depending on your severity of tooth loss, your treatment plan will vary. Believe it or not, there are 3 types of dental implants, so which is the right one for you? Here's what you need to know to make the best decision for your smile.
Single-Unit Dental Implant
A single tooth can be treated using a dental implant which consists of a titanium post, an abutment, and a restoration. Your dentist in Bellingham will surgically place the post into your jaw to serve as the root. Your bone will fuse to it through a process called osseointegration. With the post acting as a root, it will preserve your jawbone and protect your remaining teeth from dental drift. After your jaw has healed, a special fixture called an abutment is placed onto the post to attach your restoration. Your replacement tooth is carefully crafted to match your natural teeth to create a seamless smile.
Implant-Supported Bridge
Traditionally, two or more consecutive missing teeth are treated with a fixed bridge. The surfaces of your teeth are reconstructed from all-ceramic material. The bridge is held in place by bonding dental crowns over the adjacent teeth. Instead of permanently altering healthy teeth, you can use dental implants to support the bridge. An implant post is placed at either end of the bridge to anchor it to your jawbone. It won't rely on your other teeth to hold it in place to protect your natural smile.
Implant Dentures
A conventional full denture rests on top of your gum tissue and is held in place using suction or an adhesive. Although they've undergone several improvements over the years, they will always have their limitations. Implant dentures in Bellingham resolve the disadvantages of the traditional method. 4 to 10 dental implants stabilize your denture using your jawbone. You'll never need to worry about any slipping or irritation again while restoring at least 70% of your biting force. Not to mention, your implant denture can last for a lifetime with the right aftercare, so you don't need to have it replaced every 5 to 7 years.
Benefit from a Complete Smile
Whether you're missing a single tooth or an entire arch, you can complete your smile using a solution that looks and feels natural. Your dentist will create the personalized plan you need to replace your lost teeth.
About Dr. Ronald A. Moreno
Dr. Moreno is a graduate of Georgetown University. He regularly continues his training to provide the most advanced services, like dental implants. As a member of the Mount Baker District Dental Society, you can feel confident your smile is in good hands. Contact our office today to schedule your consultation.